We've made a list and checked it more than twice, and now we're delivering the Best Christmas Movies to our nice RT readers! (If this list ends with I Saw Mommy Kissing Santa Claus, you got the naughty version, you awful person.)
Critics Consensus:
It may be too sweet for some, but this unabashedly sentimental holiday favorite is too cheerful to resist.
Synopsis:
This Christmas classic starring Bing Crosby is a romantic tale that takes place in a Vermont lodge- where it is…
[More]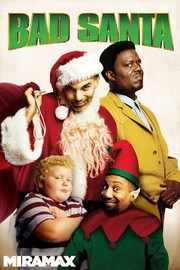 Critics Consensus:
A gloriously rude and gleefully offensive black comedy, Bad Santa isn't for everyone, but grinches will find it uproariously funny.
Synopsis:
The Christmas season just got a lot less joyous in this very dark comedy. Willie T. Stokes (Billy Bob Thornton)…
[More]
Critics Consensus:
The Bishop's Wife succeeds thanks to the strength of winning performances from a stellar cast, which includes Cary Grant and Loretta Young.
Synopsis:
Cary Grant is at his cutest as a guardian angel, sent to smooth the path for beleaguered Episcopalian bishop David…
[More]
Critics Consensus:
Director Tim Burton's dark, brooding atmosphere, Michael Keaton's work as the tormented hero, and the flawless casting of Danny DeVito as The Penguin and Christopher Walken as, well, Christopher Walken make the sequel better than the first.
Synopsis:
Batman returns, this time protecting Gotham City from the Penguin who is running for mayor and Catwoman who is just…
[More]
Critics Consensus:
The 1951 adaptation of Charles Dickens' timeless classic is perhaps the most faithful film version — and Alastair Sim's performance as Scrooge is not to be missed.
Synopsis:
Widely considered to be the definitive of the many film versions of Charles Dickens' classic novel is this 1951 British…
[More]
Critics Consensus:
Whether you choose to see it as a statement on consumer culture or simply a special effects-heavy popcorn flick, Gremlins is a minor classic.
Synopsis:
"Don't expose him to bright light. Don't ever get him wet. And don't ever, ever feed him after midnight." This…
[More]
LEAVE A COMMENT ! THANK YOU